Discover more from The Briefly
New York City news digests. Always opinionated, always trustworthy. Get to know New York City one news story at a time. Written by Rob Blatt.
Over 2,000 subscribers
The Briefly for January 29, 2020 – The "Hell Freezes Over on the Brooklyn Bridge" Friday Edition
Today - Low: 17˚ High: 23˚
Windy in the morning.
This weekend - Low: 21˚ High: 31˚
NYC's Vaccine Finder. The site isn't great, but provide links/phone numbers to specific locations. As of writing, the city has less than 67,524 first doses left before a new shipment arrives. Birds! A meta-rare Snowy Owl was seen in Central Park, the first spotting of one in the park since December of 1890. (Jake Offenhartz and Jen Chung for Gothamist) A majority of city voters support adding more protected bike lanes, wider sidewalks, greenery, and spaces for children to play, even if it means sacrificing parking or space for vehicles. Also, the sky is blue. (Christopher Robbins for Gothamist) Hell has frozen over and the Brooklyn and Queensboro bridges are getting dedicated bike lanes by the end of the year. The Brooklyn Bridge bike lanes will take the place of one of the Manhattan-bound lanes of traffic, leaving the existing shared path above the road exclusively for pedestrians. The Queensboro Bridge lane will take over the north outer roadway. (Gersh Kuntzman for Streetsblog) Video: Mayor de Blasio delivers his last State of the City address. (NYC Mayor's Office) In the address, the mayor outlines his theme for the speech, "A Recovery for All of Us," including his pledge to vaccinate five million New Yorkers by June. (Emma G. Fitzsimmons for NY Times) Covid sniffing dogs? Yeah, Covid sniffing dogs. (Fred Mogul for Gothamist) A look at the human toll of the restaurant unemployment crisis during this never-ending pandemic. (Chris Crowley for Grub Street) The mayor, full of unearned confidence, says that public schools will be open at full strength" in the fall. (Sophia Chang for Gothamist) No one wants to hear this, but the fastest way to open up New York is to shut it down first. (Nick Reisman for NY1)
---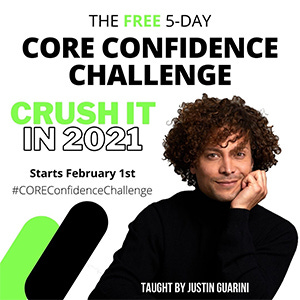 If you walked into your version of American Idol right now . . . be it a board room, a courtroom, an operating room, a Broadway stage . . . would you rise to the challenge or crumble under pressure? For the first time ever, Justin Guarini is revealing his secrets to achieving CORE confidence that have landed him on American Idol, six leading roles on Broadway, hosting and speaking gigs across the country, and so much more . . . CORE Confidence is the art and science of developing 4 key skills in 4 key areas of your life so you can be more, do more, and give more than you ever dreamed was possible. Want to possess the secret to CORE Confidence? Sign up for Justin's 5-day free CORE Confidence Challenge starting on February 1st here!
---
A New Jersey man was caught on camera trying to set fire to a Queens restaurant called Ignited Restaurant & Lounge. (Chris Crowley for Grub Street) The last link I'll ever put in this newsletter containing analysis of Andrew Yang's bodega video. (Andrew Silverstein for Grub Street) Kal Penn, former member of the White House Office of Public Liaison and Kumar from the Harold and Kumar movies, endorsed Jimmy Van Bramer for Queens Borough President. (Allie Griffin for LIC Post) The city created a $1 million, 280-page "vision plan" for making East Harlem resilient to climate change in 2017. It was completed in 2018. Like a magic trick, it has since disappeared. (Rachel Holliday Smith for The City) A cheat-sheet to the Gowanus rezoning kerfuffle. (Brian Braiker for Brooklyn Magazine) The Puppy Bowl is coming up on February 7, here are NYC's five rescue pups headed for the big game. (Shaye Weaver for Time Out) Turns out the BQE didn't stop being a giant turd because we're in a pandemic. The mayor is "hopeful for help" from the Biden Administration when it comes to repairs. (Claude Scales for Brooklyn Heights Blog) A city education panel early rejected a testing contract, temporarily stopping the controversial practice of testing incoming kindergartners for admission to gifted programs. How will the city's gifted and talented programs move forward? 🤷‍♂️ (Christina Veiga for Chalkbeat) Burgie's, the new burger spot from Roberta's, is now open (again.) (Kara Zuaro for Brooklyn Based) Do you know the history of the railroad apartment. (Cait Etherington for 6sqft) The City Council voted to approve legislation to create 4,000 new permits for street vendors in the city over the next decade and will create a separate law enforcement unit to oversee the street vending community. Opponents say that an increase in street vendors will drive business from restaurants. (Tanay Warerkar for Eater) The Times Square Margaritaville resort is scheduled to open in the fall, including the only outdoor pool in Times Square. (Emma Alpern for Curbed) The story of how Scott Green, a lifelong civil rights activist, was buried in a mass grave on Hart Island. (Corey Kilgannon for NY Times) In the perfect metaphor, the barge full of dredged up black mayo from the Gowanus Canal fro the Superfund cleanup sank into the Gowanus. (Sydney Pereira for Gothamist) Did you attempt to vote in the 2016 election by text? You have Douglass Mackey to blame. (Nicole Hong for NY Times) Meet Sink Reviews, the Tik Tok account rating NYC's sinks. (Shaye Weaver for Time Out) Photos: Okay, so here are a bunch of photos of NYC in the snow. Maybe this is cruel based on Monday's weather forecast. (Will Gleason for Time Out) What to know about the City Comptroller's race in 2021. (Rachel Holliday Smith for The City) Everything you need to know about the special elections in Queens and the Bronx, including what neighborhoods are included, candidates, dates, and what happened to cause the elections. (Claudia Irizarry Aponte for The City) NYPD Officer Carmine Simpson was arrested on child pornography charges after requesting and obtaining sexually explicit photos and videos from at least 46 minors. Simpson is one of more than half a dozen officers from the NYPD that have been charged with sexual crimes against minors in the last two years. (Jonah Engel Bromwich for NY Times) 20 NYC spots with restaurant week deals. (Hannah Albertine for The Infatuation)