Discover more from The Briefly
New York City news digests. Always opinionated, always trustworthy. Get to know New York City one news story at a time. Written by Rob Blatt.
Over 2,000 subscribers
The Briefly for Valentine's Day, 2020 – The "Your Plant Stylist Appointment is Coming Up" Weekend Edition
Today - Low: 18˚ High: 34˚
Clear throughout the day.
This weekend - Low: 30˚ High: 47˚
12 places to smooch on Valentine's Day. (Lore Croghan for Brooklyn Eagle) There have been no cases of coronavirus in New York City and despite this, the city's Chinatowns are suffering. (Marina Fang for Huff Post) A look forward on this frigid morning to the spring's street festivals on the Upper West Side. (Mike Mishkin for I Love the Upper West Side) For $2,000 someone will come to your home and style your plants. Welcome to the world of plant stylists. (Steven Kurutz for NY Times) About half the adult population of the city, roughly 3.4 million people, spent one of the last few years living below the poverty line, according to a new report from the Robin Hood Foundation and Columbia University. (Jake Offenhartz for Gothamist) Ready for a cocktail crawl? Here's how to get it done on Atlantic Avenue. (Meredith Craig de Pietro for Brooklyn Based) Michael Bloomberg's forceful push into meme culture is being lead by Mick Purzycki, who is the CEO of Jerry Media, famous for stealing content without crediting the original creators. Can the people who brought you the marketing for the Fyre Festival distract us enough from the negative headlines and quotes from Bloomberg's past? (Ashley Reese for Jezebel)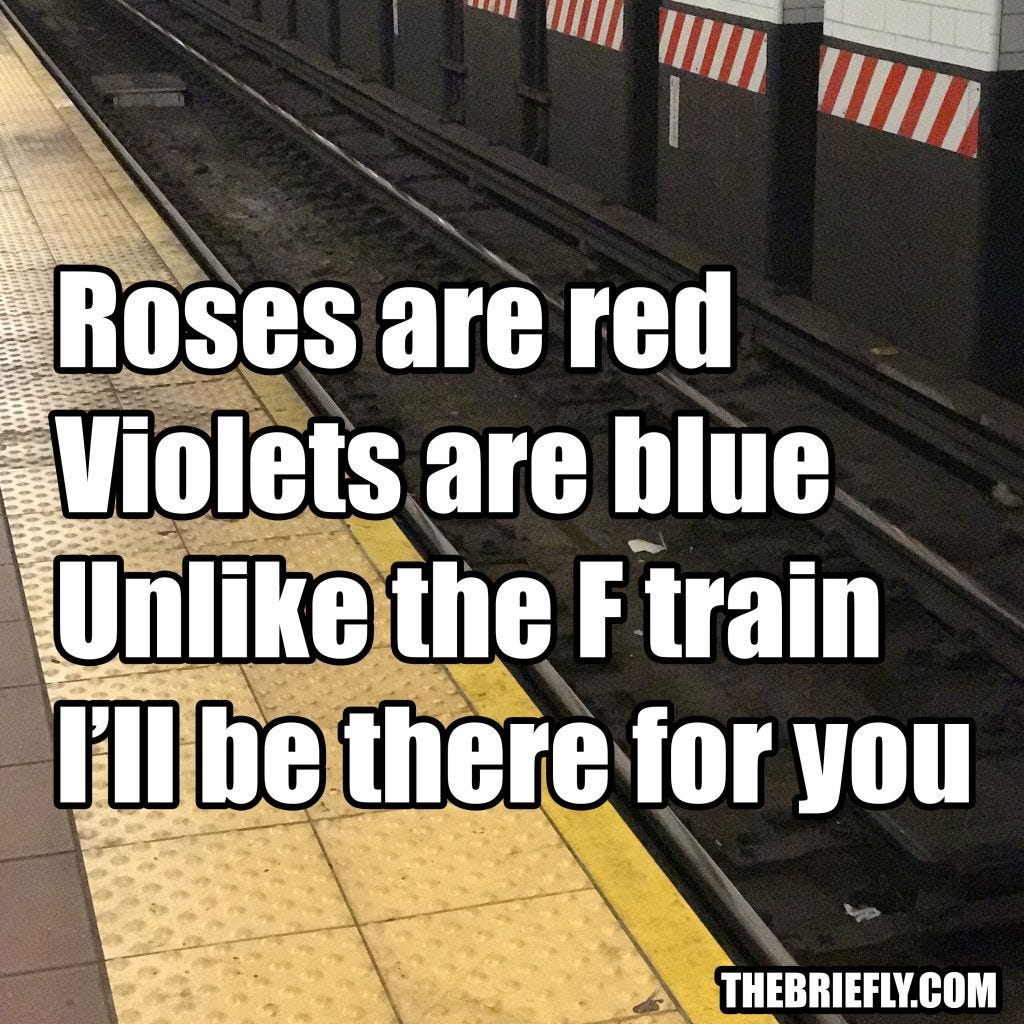 The mayor signed a bill this week that will extend government-funded health care to families of all municipal workers, not just firefighters and police, who died in the line of duty or from 9/11 related diseases. (Todd Maisel for amNewYork Metro) The annual tradition continues: Phil Collins Day is on Saturday. (Kate Hooker for Brooklyn Based) The moment the state announced the end of brokers' fees, rents jumped up about 6% across the board. Now that the fees are gone, it's unlikely we'll see a 6% drop back down. (Kathleen Culliton for Patch) City Comptroller Scott String is calling for a Bill of Rights for NYC tenants to protect them from unscrupulous landlords. He has a proposal as well, including limiting security deposits to one month of rent, providing itemized statements of damage, a five-day gras period for late rent, requiring a court order for evictions, and much more. (Kathleen Culliton for Patch) GZA played 'Liquid Swords' at the Blue Note Jazz Club in honor of the album's 25th anniversary. (BrooklynVegan) The top five potato dishes in the city, according to Robert Sietsema. (Robert Sietsema for Eater) The governor is making a new push for legalizing compensated gestational surrogacy with a campaign called "Love Makes A Family." New York is one of three states that hasn't legalized the practice. (Matt Tracy for Gay City News) Real Estate Porn: Don Lemon is selling his Harlem condo. You can live like Don Lemon for only $1.75 million. The condo looks like a great place to get drunk on New Year's Eve and make mistakes. (Devin Gannon for 6sqft) The story of a meander and 14 photos of central Park Slope. (Lore Croghan for Brooklyn Eagle) 48 pictures of the beautiful Bronx. (Ed García Conde for Welcome2TheBronx) Manhattan, we have to have a serious conversation. We know you're not going to Brooklyn on the weekends, even if you need groceries and Brooklyn has the only Wegmans in the city. You want to veg out, binge the new season of Narcos and order some Seamless. That's cool, because now Wegmans delivers to Manhattan. (Nikita Richardson for Grub Street) In a literal quid pro quo, the president said if New York stops suing the president, the president will restore New Yorkers' access to Trusted Traveler Programs programs. This ban happened the day he was acquitted after being impeached. Letitia James has filed 35 lawsuits against the federal government since January 2019. (Xeni Jardin for BoingBoing) A look into the illegal, but welcome, underground of street car washers. (Sandra E. Garcia and Stephen Speranza for NY Times) Mayor Bill de Blasio and Schools Chancellor Richard Carranza came to a tentative agreement on a contract that gives increased pay and paid parental leave to principals and assistant principals. (Alejandra O'Connell-Domenech for amNewYork Metro) Got furniture you want to get rid of but it's too nice for the curb (note: nothing is too nice for @stoopingnyc)? Here's where to sell used, vintage, and antique furniture in the city. (Zachary Solomon for StreetEasy) Bronx City Council Member Vanessa Gibson is going to pay $5,000 for abusing her position on City Council to get out of paying a $50 ticket for driving while using her phone. (Kathleen Culliton for Patch) A developer in Crown Heights was ordered to remove all construction equipment from the potential site of two 16-story towers after they were discovered violating a temporary restraining order. Activists have targeted the buildings as part of an anti-gentrification campaign lead by Movement to Protect the People. The group claimed the buildings would block sunlight for the Brooklyn Botanical Garden, but this has been refuted by the BBG and should not be confused with the 39-story tower that the BBG is actively campaigning against in its "Fight for Sunlight" campaign. (Ben Verde for Brooklyn Paper) 27 top burgers in the city. (Eater) Thank you to my valentine Meg Blatt for today's featured photo.