Discover more from The Briefly
New York City news digests. Always opinionated, always trustworthy. Get to know New York City one news story at a time. Written by Rob Blatt.
Over 2,000 subscribers
The Briefly for January 19-20 – The "Lena Dunham and Bill de Blasio?" Tuesday Edition
Today - Low: 32˚ High: 40˚
Partly cloudy throughout the day.
Another week, another broken promise from Mayor de Blasio. After he spent all summer painting "BLACK LIVES MATTER" on the city's streets, the mayor's "Racial Justice and Reconciliation Commission" has done zero public work and hasn't been mentioned since August. (Ethan Geringer-Sameth for Gotham Gazette) The Times looks at five takeaways from the mayor's race. (Emma G. Fitzsimmons and Jeffery C. Mays for NY Times) Here's a weird one. Someone is putting up flyers announcing the wedding of Lena Dunham and Mayor de Blasio on Valentine's Day in Union Square. This seems somehow connected to the very weird Fiona Apple flyer from October. Congrats to the happy couple? (EV Grieve) Photos: The new glass sculpture I dreamed a world and called it Love by Jim Hodges in Grand Central Terminal. (Nicole Saraniero, photos by David Regen for Untapped New York) With Inauguration Day approaching, it's a great time to remember that the nation's first inauguration happened outside the Federal Hall National Memorial in the Financial District on April 30, 1789. The original bible George Washington placed his hand on is still in the building. (Nicole Saraniero for Untapped New York) A Martin Luther King Jr Day protest started at the Barclays Center in Brooklyn and ended with the NYPD making dozens of arrests of peaceful protesters near City Hall. (Azi Paybarah for NY Times) The NYPD is being sued by the state's attorney general over its handling of protests over the summer because violence against protesters isn't a bug in the system, it's a feature. (Erin O'Brien for Bedford + Bowery) Nicolas Moncada, 20, of Staten Island was arrested for his role in the January 5 insurrection. How did they know he was there" Because he posted a selfie of himself outside Speaker Pelosi's office to Instagram. Neighbors describe his arrest as "like they were looking for a terrorist." They were and they arrested him. (Elina Tarkazikis for NY1)
---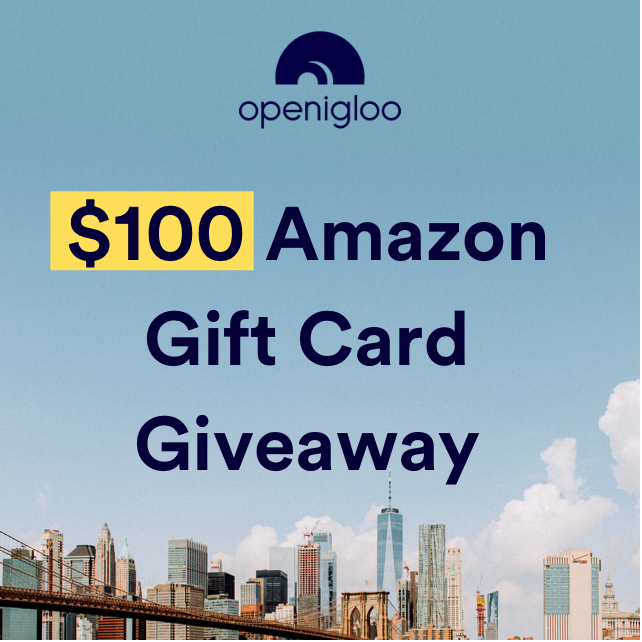 Enter to win a $100 Amazon gift card from openigloo, a new app that allows NYC renters to rate landlords and buildings
Enter for a chance to win a $100 Amazon Gift Card* in 2 easy steps: • Download openigloo • Anonymously review your NYC rental experiences
The winner will be randomly drawn on Wednesday morning at 10 AM and notified by email (the same email you use to create your openigloo account).
openigloo is a community of 50,000 NYC renters who are sharing the good, bad, and ugly of renting in this city. You can learn about a building's open violations, eviction history, bedbug complaints, and more. Moving in 2021? Read building and landlord reviews on openigloo before signing your next lease! Renewing your lease? Get the inside scoop of your building to help with rent negotiations. Together we can build a more transparent New York and hold landlords accountable!
Get the app here.
For any inquiries, please email info@openigloo.com. *Offer available to new openigloo subscribers only.
---
The city's graduation rate hit an all-time high of 78.8% in 2020. (Matt Troutman for Patch) The MTA claims the driver of the bus that drove off an overpass refused a drug test, but the driver, whose jaw had been fractured in the accident, says a drug test was taken in the hospital. (Sydney Pereira for Gothamist) The Biden-Harris administration nominated Polly Trottenberg, the city's former commissioner of the Department of Transportation, for Deputy Secretary for the U.S. Department of Transportation to work under Pete Buttigieg. (Stephen Nessen for Gothamist) Foot traffic is down 70% year over year in Times Square. (Jake Dobkin for Gothamist) Want to send someone some cheer? You can record a birthday greeting for Ray or Ray's Candy Store, who turns 88 on January 25, to be a part of a Guinness World Record for "biggest video hug ever." (EV Grieve) The MTA is postponing their scheduled 2021 fare hike because, quite frankly, we've all had enough already. (Benjamin Kabak for Second Ave. Sagas) The Union Square Partnership unveiled a $100 million plan for a car-free Union Square that would expand the park 33% into the surrounding streets. The plan will be officially presented on January 26. (Gersh Kuntzman for Streetsblog) The public review process for the Gowanus rezoning has been temporarily halted by a Brooklyn Supreme Court judge over concerns that holding virtual meetings violates city law that requires public hearings. The lawsuit that halted the process asks that public hearings be held when it is safe to do so. (David Cruz for Gothamist) The MTA is looking into temporarily reducing service on some subway lines because of worker shortages due to illness, retirements, and a lack of new hires. (Jose Martinez for The City) Governor Cuomo is tired of the federal government's shit and has asked Pfizer to sell vaccines directly to the state, which is possible because Pfizer is not a part of "Project Warp Speed." (Lisa Finn for Patch) Sunset Park's South Brooklyn Marine Terminal will become an offshore wind assembly port for the state's new offshore wind farms. (Sydney Pereira for Gothamist) Repairs of the Cherry Walk segment of the Hudson River Greenway, stretching from 100th to 125th St, are complete. (Streetsblog) Gothamist gets giddy about Medan Pasar, a new Malaysian restaurant in the East Village. (Scott Lynch for Gothamist) What you need to know about the 2021 Bronx, Brooklyn, Manhattan, and Staten Island borough president races. (Rachel Holliday Smith for The City) Thanks to reader Francesca for today's featured photo of Fort Tryon Park!