Discover more from The Briefly
New York City news digests. Always opinionated, always trustworthy. Get to know New York City one news story at a time. Written by Rob Blatt.
Over 2,000 subscribers
The Briefly for January 15-16, 2020 – The "A Zabar's Bag Appears" Friday Edition
Today - Low: 44˚ High: 46˚ Rain in the evening and overnight. This weekend - Low: 34˚ High: 48˚
How to get vaccinated for Covid-19 in New York City. (Jen Carlson and Jen Chung for Gothamist)
Nearly 28% of the people who have gotten vaccinated against the coronavirus in New York City live outside the city. (Reuven Blau and Will Welch for The City)
If you are getting a vaccine, consider making an appointment in the middle of the night to take the burden off the people who don't have another option but to get it during the day. (Jose Martinez for The City)
According to the mayor, the city is in danger of running out of vaccines next week unless it receives more from the federal government. (Matt Troutman for Patch)
Two cases of the more contagious UK strain of Covid-19 have been found in the city. The variant is known as B.1.1.7. and both cases are from late December. (Elizabeth Kim for Gothamist)
Citi Field is set to become a 24/7 mega Covid-19 vaccination site. (Angélica Acevedo for QNS)
Photos: Inside the mass vaccination site at the Javits Center. (Devin Gannon for 6sqft)
People over 65, grocery store workers, and people who work in shelters are now eligible to get the COVID-19 vaccine. (Matt Troutman for Patch)
NY Attorney General Letitia James is suing the city, saying the NYPD has used "a pattern of excessive force" for years and wants a federal monitor to oversee the department's tactics at future protests. (Ashley Southall for NY Times)
The NYPD is looking into expanding its experiment that removed cops from two streets in Brownsville and replaced them with community information booths. (Eileen Grench for The City)
"No one can afford to live in New York. Yet, eight million people do. How do we do this? We don't know!" 20 Fran Lebowitz quotes from the absolutely recommended "Pretend It's a City." (Christina Izzo for Time Out)
---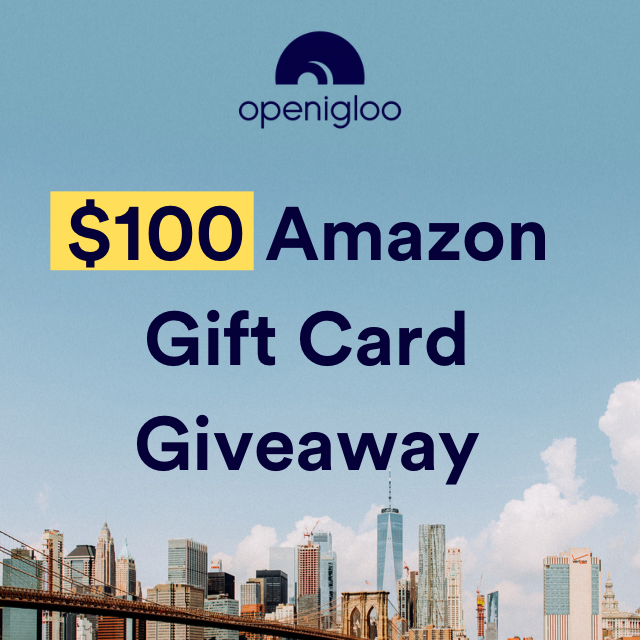 Enter to win a $100 Amazon gift card from openigloo, a new app that allows NYC renters to rate landlords and buildings
Enter for a chance to win a $300 Amazon Gift Card* in 2 easy steps: • Download openigloo • Anonymously review your NYC rental experiences
The winner will be randomly drawn on Wednesday morning at 10 AM and notified by email (the same email you use to create your openigloo account).
openigloo is a community of 50,000 NYC renters who are sharing the good, bad, and ugly of renting in this city. You can learn about a building's open violations, eviction history, bedbug complaints, and more. Moving in 2021? Read building and landlord reviews on openigloo before signing your next lease! Renewing your lease? Get the inside scoop of your building to help with rent negotiations. Together we can build a more transparent New York and hold landlords accountable!
Get the app here.
For any inquiries, please email info@openigloo.com. *Offer available to new openigloo subscribers only.
---
Real Estate Lust: Three terraces, an open-air zen garden, three bedrooms, two floors, in Soho and only $10.9 million. (Dana Schulz for 6sqft)
There is no show set in New York City without a Zabar's joke or tote bag, but Jerry Nadler actually brought a Zabar's bag to the impeachment. (Gus Saltonstall for Patch)
Governor Cuomo announced indoor dining can resume at half capacity in New York state, except in the city. (Tanay Warerkar for Eater)
70 bars and restaurants are suing Governor Cuomo alleging that the state's constantly changing dining regulations violate the businesses' civil rights. (Erika Adams for Eater)
Last year the mayor announced that Juneteenth would become "an official city holiday." That was a broken promise. (Gabriel Sandoval for The City)
Mayor de Blasio had a goal to make composting mandatory citywide by 2018. Last year he tried to cut the budget completely. The City Council restored a portion of the funding but it is quickly deteriorating. (Audrey Carleton for Gothamist)
AOC took to Instagram to explain what happened after the attack on the Capitol last week. (@AOC)
What is known about the New York insurrectionists. (Sarah Maslin Nir for NY Times)
Aaron Mostofsky was photographed during last week's insurrection wearing animal pelts, sporting a police shield and vest, and wizard walking stick is an entire jackass and the son of a Brooklyn Supreme Court Judge and the brother of the vice president of the South Brooklyn Conservative Club. He was arrested on Tuesday in Midwood and released on a $100,000 bond. His animal pelts were confiscated. (Jake Offenhartz for Gothamist)
The FBI stopped Eduard Florea, an aspiring Proud Boy (deemed a hate group by the Southern Poverty Law Center), from an attack on "target rick" New York City. (Jake Offenhartz for Gothamist)
The Vessel is closed until further notice after a 21-year-old jumped to his death, the third suicide from the structure in less than a year. (Ed Shanahan and Kimiko de Freytas-Tamura for NY Times)
The story of Roxy, a bed bug sniffing pit bull terrier in the center of a legal battle over "ownership" of Roxy between Roxy's people and the exterminator that laid her people off in March. (Stephanie Simon for NY1)
There's a food fight brewing on Rockaway Beach over the new lease on boardwalk concessions. (Maggie McGlinchy for Grub Street)
James Harden, welcome to the Brooklyn Nets. (Brian Braiker for Brooklyn Magazine)
860 of the city's 878 schools offer some form of all-classroom instruction and 247 schools offer five-day-a-week classes to all of their students. (Matt Troutman for Patch)
The city will stop giving the Gifted and Talented test to kindergarteners after this spring, citing the test's unfairness. Mayor de Blasio doesn't have a plan to replace the test, that'll be the next mayor's problem. (Alejandra O'Connell-Domenech for amNewYork Metro)
Photos: The "most expensive piece of art in the world" and it's in Grand Central Terminal. The Da Vinci of Debt of 2,600 real college diplomas, each on loan for $100. (Michelle Young for Untapped New York)
It's official: Andrew Yang is running for mayor and he's bringing modified Universal Basic Income with him. (Brigid Bergin for Gothamist)
Mayoral candidate Maya Miley unveiled her New Deal New York roadmap, including a $10 billion investment fund to fuel job creation, transforming NYCHA, and more. (Ariama Long for Queens County Politics)
Voice of Gowanus, a coalition of neighborhood civic groups, retained a lawyer and an environmental consultant to fight the city's Gowanus rezoning. (Katia Kelly for Pardon Me For Asking)
New York City is finally flushing the toilet and will be seeking to cancel all outstanding contracts with the Trump Organization, including the Wollman Rink, Lasker Rink, and a carousel in Central Park and the Trump Golf Links at Ferry Point in the Bronx. (Elizabeth Kim for Gothamist)
The mayor unveiled his $92.28 billion 2022 preliminary budget, including $5.25 billion in cuts due to Covid-19 costs and a loss of property tax revenue. (Matt Troutman for Patch)
Governors Ball, a group of optimists, announced dates for September 24-26, 2021. (Amanda Hatfield for BrooklynVegan)
The NYPD found a dead body floating in the East River near the Astoria Ferry Terminal. The identity and cause of death is yet unknown. (Christina Santucci for LIC Post)
A guide to vegetable-forward dining in New York City. (Deanna Ting for Resy)
The 10 best things about living in NYC, according to New Yorkers. Not on the list, but should be, is "it's not the midwest." (Shaye Weaver for Time Out)
Thanks to reader Amy for today's featured photo!