Discover more from The Briefly
New York City news digests. Always opinionated, always trustworthy. Get to know New York City one news story at a time. Written by Rob Blatt.
Over 2,000 subscribers
The Briefly for February 11, 2019 – The "Controlled by the Homosexual Community" Edition
Oh, you think just because the weekend is over that the subway service changes are too? Nope. Here are this week's late night closures, diversions and express trains. (Subway Changes)
Raul Candy Store on Avenue B is closing at the end of the month after 45 years. As Jimmy McMillan would say, "The rent is too damn high." Whatever candy is left on February 28 will be free. (NY1)
The City Council is "controlled by the homosexual community," according to Councilmemeber and noted homophobe Rubén Díaz Sr. (NY Post)
Díaz Sr doubled down when asked about his statement, stating "they control the politics in the state." And cited gay relatives as his excuse for his comments. "I'm surrounded by gay [people]." The LGBTQ caucus is demanded his resignation. (NY Post)
From Welcome2TheBronx's Ed García Conde: What You Should Know: Councilman Ruben Diaz Sr Shouldn't Apologize—He Needs to Resign
The TWA Hotel at JFK opens in May, the first rooms will be available for booking on Thursday at noon. (Curbed)
Did Gennaro Lombardi really bring pizza to NYC? Research is starting to question accepted pizza lore. (Gothamist)
How roni cup pizza took over NYC. Here's where to find the best roni cup. (Eater)
Rosemary's, which opened in 1955 on Bedford Ave in Williamsburg, will close at the end of February. Demolition and construction on either side of the bar puts it at structural risk. Join in the fun on the 28th by trying to drink the bar dry to say farewell. (Gothamist)
Dan Smith will teach you guitar. (Bedford + Bowery)
The Museum of the Dog is open fur all. (amNY)
A personal essay of the impact of an ultra-Orthodox education on high school girls and the long-term ramifications it can have on their lives and careers. (HuffPost)
Amazon doesn't think NYC has been "welcoming" enough. "Being miserable and treating other people like dirt is every New Yorker's God-given right." -Mayor Lenny, Ghostbusters II (Gothamist)
Governor Cuomo is ready to blame Democrats if Amazon pulls out, and not the secretive process he engaged in without input from the politicians who oppose the deal as it stands today or Amazon's spotty history worker treatment and opposition to unions. (Politico)
The MTA says they maybe found the source of the oil smell in the L train tunnels that caused some riders and workers to faint and vomit last week. Monday's commute will tell the story if it was addressed over the weekend. (Gothamist)
"My favorite M.T.A. decision — because you have to laugh, otherwise you cry — is the one they made to pick a product to clean the subway stations ... What product did they pick? Tide." Listen governor, no one cares what the MTA uses to clean the subways as long as they actually clean them. (NY Times)
Did the MTA deliberately distort the reasons for more than 500,000 subway delays? City Comptroller Scott Stringer accused the MTA of lying and covering up major incidents and construction as "unknown" delays. (NY Post)
Cuomo's approval ratings are at their lowest. Only 35% of those polled said he was good an "excellent" or "good" job. (NY Times)
The former NYC jail union boss is headed to jail for five years for taking a $60k bribe to invest $20 million of pension money into a hedge fund that failed. (amNY)
Say hello to the black blob oozing out of a vent in the 23rd Street subway's stairwell. (Gothamist)
Jason Reeves was arraigned on Friday for the alleged murder of his mother in Crown Heights. She was found dead in her closet with stab wounds. (Bklyner)
Turns out de Blasio's "city-wide" healthcare plan doesn't include Staten Island. (NY Post)
President Trump's US Housing and Urban Development Regional Director Lynne Patton will be living in various NYCHA buildings for the next four weeks instead of her usual digs in Trump Tower. Patton was appointed to the job in 2017 after serving the president as a daily aide and event planner and has no prior governmental experience. (NY Post)
Since the mayor seems incapable of doing anything about parking placard abuse, the City Council is ready to take action. (Streetsblog)
The best Mexican restaurants in Manhattan. (The Infatuation)
---
- Today's edition of The Briefly is sponsored by Symphony Space -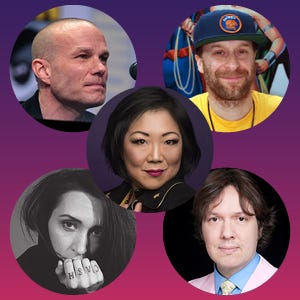 Margaret Cho, Jon Glaser, Dave Hill, James Marshall, and Hether Fortune join Red Room Orchestra in recreating remarkable soundtrack and score selections from Twin Peaks and the films of Wes Anderson in two back-to-back evenings of live music on February 15 & 16 at Symphony Space. Buy tickets
---
Get your photo featured or suggest stories for The Briefly by responding to this email or tagging your NYC photos and news on Instagram or Twitter with #thebriefly.