Discover more from The Briefly
New York City news digests. Always opinionated, always trustworthy. Get to know New York City one news story at a time. Written by Rob Blatt.
Over 2,000 subscribers
The Briefly for December 15-17, 2020 – The "Sandra Lindsay, First to be Vaccinated" Tuesday Edition
Today - Low: 29˚ High: 39˚
Partly cloudy throughout the day.
Today's edition is sponsored by Media Career Makeover by Mediabistro
Meet Sandra Lindsay, a nurse at a Queens hospital, who was the first person in the United States to be vaccinated against Covid-19. (Sharon Otterman for NY Times) Answering questions about the Covid-19 vaccine rollout in NY and NJ. (Caroline Lewis for Gothamist) Alright, let's brace ourselves for a possible strong snowstorm this week. I am not looking forward to fighting to put my pups' tiny boots on their unwilling feet. (John Del Signore for Gothamist) With the rising number of Covid-19 hospitalization, the mayor is warning that the city is headed for another full-on lockdown as we experienced in the spring. (Erika Adams for Eater) The NYPL is back to phase one service, with only grab-and-go service in yellow zones. (Norwood News) Rao's in East Harlem is now delivering for the first time in its 124 year history. (Devin Gannon for 6sqft) Mayor de Blasio has accepted a challenge to ride the subway to show that it's safe to ride the subway. How very brave of him. (Gersh Kuntzman for Streetsblog) The 21 Club, which if you don't know is the random building in Midtown with 21 jockey statues outside, is closing after being open since 1930. (NY1) "We have heard from principals, families, and Learning Bridges partners that the communications from the Situation Room can be frustrating and opaque — far from what you characterized in the mayor's initial press release as 'resulting in quick, decisive action for our schools and clarity and transparency for all families.'" What the hell is going on with the city's "Situation Room," which was supposed to make the city able to quickly respond to Covid-19 cases in schools? (Amy Zimmer and Christina Veiga for Chalkbeat) A man committed suicide by cop after opening fire near a crowd of hundreds of people gathered for a Christmas concert outside the Cathedral of St. John the Divine in Morningside Heights on Sunday afternoon. According to City Councilmember Mark Levine, the shooting was yelling he wanted to be killed. (Mihir Zaveri, Troy Closson and Liam Stack for NY Times) Here is what's known about Luis Vasquez, the Cathedral of St. John the Devine gunman. (Ashley Southall for NY Times) What a 421a tax abatement is and how it works. (Jordi Lippe-McGraw for StreetEasy) Photos: The Barrel Owls of Riverside Park are this year's hot duck. (D. Bruce Yolton for Urban Hawks) Attention Bobby Flay: Everyone has to pay rent, you included. (Sasha Jones for The Real Deal) The city's outreach at the end-of-line subway stations to New York's homeless population as the subway closes overnight seems to be seeing success according to the city's figures. (Mirela Iverac for Gothamist) Faulty wiring was the cause of the Middle Collegiate Church fire in the East Village, according to a report from the FDNY. (Holly Louise Perry for Bowery Boogie) Apartment Lust: The 'Dean & Deluca Loft', a $5.8 million, 3,600 square foot, open-style loft in Soho, is up for sale. The loft's seller is Rhonda Sassoon, fourth wife and widow of famed hairdresser Vidal Sassoon, and the previous owner was Jack Ceglic, the co-founder of Dean & Deluca. (Dana Schulz for 6sqft) Where to do Christmas stuff in NYC. (Matt Tervooren for The Infatuation)
---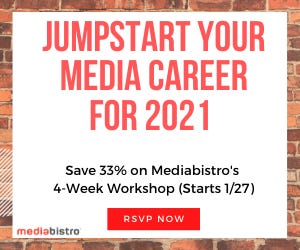 Media Career Makeover
by Mediabistro
Get your creative career going in 2021!
Restart, re-energize, and redirect your freelance or full-time media career with Mediabistro's Media Career Makeover, a four-week online bootcamp that includes live webinars from career and personal brand experts, networking, tactical plans for finding new full-time or freelance work, and personalized guidance from a coach.
Join other media and creative professionals in getting 2021 off to the best start!
Special offer for The Briefly readers: use code thebriefly33 for 33% off at checkout here. Classes begin January 27. Offer expires December 30.
---
15 Hudson Yards has won "2020 Building of the Year" from 6sqft. 15 Hudson Yards is attached to The Shed in Hudson Yards. (Dana Schulz for 6sqft) A holiday tipping guide. Spoilers: tip cash. (Matt Troutman for Patch) Does your tap water taste a little different? It's a regular occurrence as plants die off in the upstate reservoirs that hold the city's water. The Department for Environmental Protection has stated that it is 100% harmless. (Nick Garber for Patch) Governor Cuomo denies allegations of years of sexual harassment by former deputy press secretary Lindsey Boylan. (Sydney Pereira for Gothamist) Superiority Burger is moving... across the street to a larger space. (Tanay Warerkar for Eater) It's not all good news for the city's plant-based restaurants, as By Chloe has filed for Chapter 11 bankruptcy protection with plans to sell the company. (Erika Adams for Eater) Shepard Fairy's Blondie mural on Bleecker at the Bowery was restored over the weekend by artist PraxisVgz. (EV Grieve) Dounya Zayer, who was thrown on the pavement by Officer Vincent D'Andraia during a protest in May following George Floyd's murder filed a federal civil rights lawsuit against the city, the NYPD, D'Andraia, and his supervisor. D'Andraia was suspended without pay and charged with assault with a hearing scheduled for April 2021. His supervisor was transferred. (Eileen Grench for The City) A new 'Central Park Five' law requires police to videotape all interrogations of minors to prevent cops from extracting false confessions. The law was intended to close a gap left in Gover Cuomo's 2018 criminal justice reforms (Rose Adams for Brooklyn Paper) Vodka doughnuts? Vodka doughnuts. (Christina Izzo for Time Out) Franklin Park in Crown Heights closed for good on Sunday night after 12 years in the neighborhood. The attached burger joint Dutch Boy will remain open for takeout and delivery. (Tanay Warerkar for Eater) The Met Museum opened 21 renovated galleries that contain more than 500 works after two and a half years of renovations to add new skylights. The work is on all 45 galleries in total is expected to be complete in spring 2022. (Shaye Weaver for Time Out) Early voting for the special election to replace former Bronx Councilmember Andy King began over the weekend. The hopefuls to replace king are nonpartisan candidates Pamela Johnson-Hamilton, Neville Mitchell, and Kevin Riley. The winner will serve until the end of 2021. (Gloria Cruz for Gothamist) Video: Drone footage of Central Park Tower, Billionaires Row, Central Park, Columbus Circle, and 53 West 53. (the Dronalist) The 11 best new restaurants of 2020, according to Time Out. (Christina Izzo for Time Out) Thanks to reader Flo for today's featured photo!