Discover more from The Briefly
New York City news digests. Always opinionated, always trustworthy. Get to know New York City one news story at a time. Written by Rob Blatt.
Over 2,000 subscribers
The Briefly for June 14, 2018 – Affordable Housing for Seniors, Three Rhinos Go to Brooklyn, Spotted Pig's Future, and More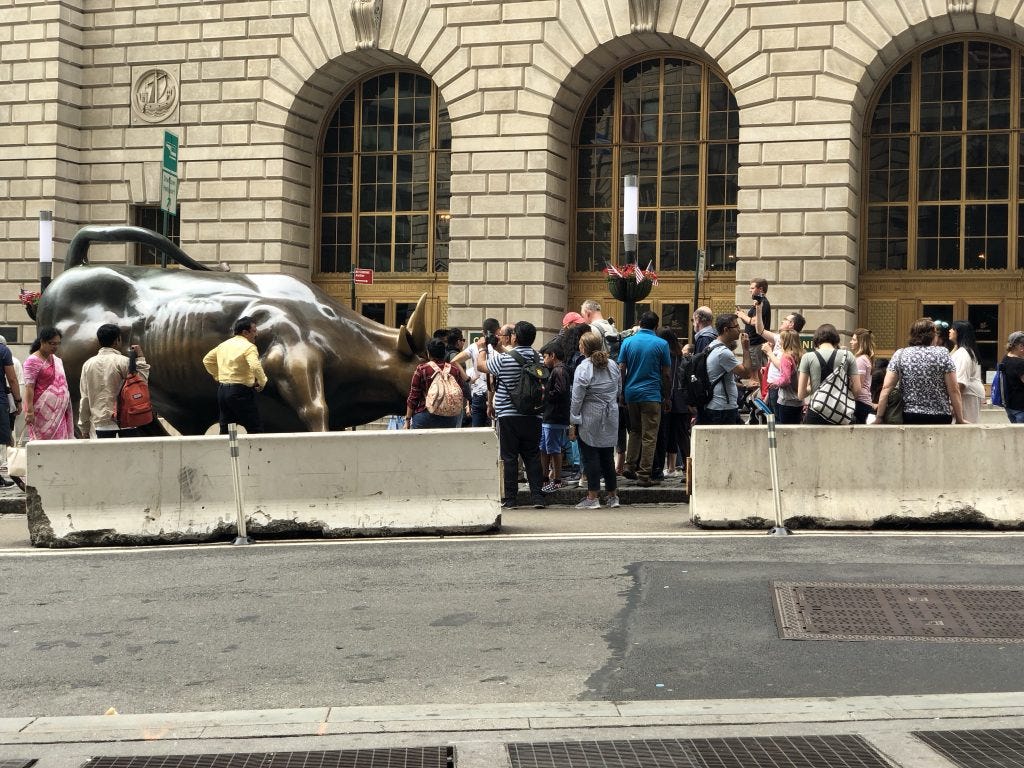 Happy flag day.
The Upper West Side, Bed-Stuy, and Harlem are the top neighborhoods in the city... for rats!
Newtown Creek is getting a new living dock. What's a living dock? It's a "floating structure designed to provide valuable marine habitat within a heavy polluted and largely bulkheaded waterway." Don't fall in the water.
A 33-year-old mom was killed and her 6-year-old son was injured when a car jumped a curb on Seaview Avenue in Canarsie on June 12.
The city committed to build thousands of affordable apartments for low-income seniors on unused NYCHA land. There are 207,000 families on the wait list for public housing and 58,700 living in shelters in the city. This is separate from the $2 billion seed aside to right the recent NYCHA wrongs.
The TLC suspended the license of the Uber driver who kicked two women out of his car for kissing. Uber also kicked him out of their app. It's 2018, jeez.
The Last Three is a seventeen foot tall sculpture of three rhinos stacked on top of each other by Gillie and Marc Schnatter in MetroTech in Downtown Brooklyn. Public viewing started Wednesday, June 13. The statue was previously in Astor Place. The pair previous had a sculpture in DUMBO called Paparazzi Dog.
Filming Around Town: Netflix's The Punisher is at Sutton and Driggs in Brooklyn and The Marvelous Mrs. Maisel is at E 96th and 5th.
Bushwick Daily published their happy hour guide to the Myrtle-Wyckoff L and M stop.
The Roosevelt Island Operating Corp (RIOC) announced two more weeks of partial closures of the the Roosevelt Island tram due to recent rain. If you don't have to, don't take the tram.
should be allowed to live in rest-stabilized apartments?
Gabrielle Hamilton, chef and owner of Prune in Manhattan, and her wife Ashley Merriman will take over of Spotted Pig restaurant. This is a somewhat controversial move, as the NY Times quotes some people who are upset that they are willing to do business with Ken Friedman. Friedman was accused of sexual harassment by at least 10 women earlier this year.
The jackass behind the Fyre Festival was charged with even more fraud. Get in the sea.
Take a look at the future of paying for the subways and buses, as the MetroCard will go the way of the subway token.
Michael Gongora, a suspected MS-13 gang member, was charged with starting a fire in Flushing on June 4 that injured ten firefighters and left two alleged gang members in critical condition.